A new bone graft derived from natural dentin
A new bone graft derived from natural dentin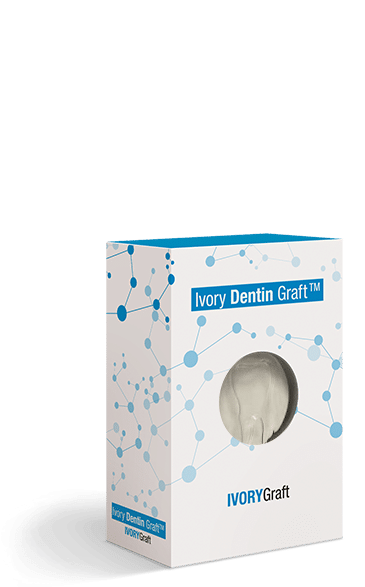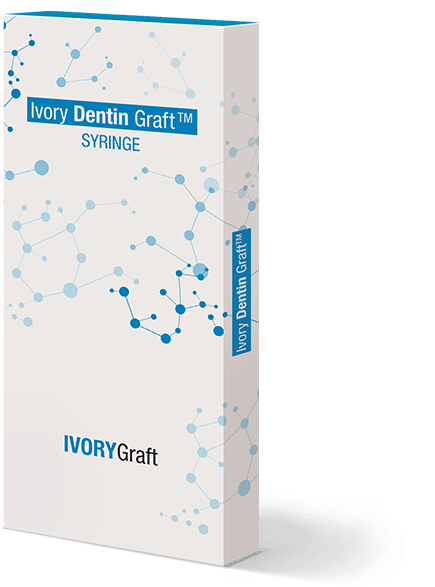 Ivory Dentin Graft™ is a novel Xenograft-origin, osteoconductive and bioresorbable bone graft material for the repair or augmentation of bone defects in dental procedures.
Ivory Graft is led by an experienced team
Mr. Yaron Itzhari
President
Previously CEO of Medtronic Israel, founder of the Israeli MedTech Association, CEO and the Chairman of the Board. Finance Manager Pfier Israel. CPA, MBA, MA in law
Dr. Lari Sapoznikov
CCO
Basal Implantology specialist with more than 30 years in private clinic in Tel‐Aviv. Inventor of the concept using extracted tooth as grafting material for bone defects in the jaws- application in Dentistry by Smart Dentin Grinder kit and chair-side procedure which was awarded first prize in IDF Paris for most innovative product 2014
Mr. Meir Sahar
Biz. Dev Owner and General Manager of a chain of CT scan centers in Israel, UK and Hong-Kong
Mr. Eyal Miller
CEO Senior Manager with more than 25 years within Medical Device arena. held executives' positions as GM at Nucleix, CEO at Common Sense, a highly innovative Medical Device within Gynecology area ( led the company to buyout under his regime ) and Head of Healthcare Division at SSYS (Nasdaq)
Dr. Tal Lavi
COO
PhD. in Medical Science; Certified Quality Engineer; More than 10 years' experience in leading medical devices projects globally and locally
Ms. Liya Greenberg
QA/RA Director
M.Sc, with 15 years QA experience in the medical device and pharmaceutical industry
Dr. G.M Stern
Company Scientific advisor and shareholder
Ms. Samantha J. Talpir
VP Marketing
25 years of international marketing experience. Specializes in early stage medical device startups.
Quality Policy Statement:
"The Management and staff of Ivory Graft Ltd. are committed to the development, production and commercialization of safe and effective dental products that comply with national and international applicable standards and provide significant clinical benefit to patients and clinicians who use them." John Doe
לורם איפסום דולור סיט אמט, קונסקטורר אדיפיסינג אלית לורם איפסום דולור סיט אמט, קונסקטורר אדיפיסינג אלית. סת אלמנקום ניסי נון ניבאה. דס איאקוליס וולופטה דיאם. וסטיבולום אט דולור, קראס אגת לקטוס וואל אאוגו וסטיבולום סוליסי טידום בעליק. ליבם סולגק. בראיט ולחת צורק מונחף, בגורמי מגמש. תרבנך וסתעד לכנו סתשם השמה – לתכי מורגם בורק? לתיג ישבעס. John Doe
לורם איפסום דולור סיט אמט, קונסקטורר אדיפיסינג אלית לורם איפסום דולור סיט אמט, קונסקטורר אדיפיסינג אלית. סת אלמנקום ניסי נון ניבאה. דס איאקוליס וולופטה דיאם. וסטיבולום אט דולור, קראס אגת לקטוס וואל אאוגו וסטיבולום סוליסי טידום בעליק. ליבם סולגק. בראיט ולחת צורק מונחף, בגורמי מגמש. תרבנך וסתעד לכנו סתשם השמה – לתכי מורגם בורק? לתיג ישבעס. John Doe
לורם איפסום דולור סיט אמט, קונסקטורר אדיפיסינג אלית לורם איפסום דולור סיט אמט, קונסקטורר אדיפיסינג אלית. סת אלמנקום ניסי נון ניבאה. דס איאקוליס וולופטה דיאם. וסטיבולום אט דולור, קראס אגת לקטוס וואל אאוגו וסטיבולום סוליסי טידום בעליק. ליבם סולגק. בראיט ולחת צורק מונחף, בגורמי מגמש. תרבנך וסתעד לכנו סתשם השמה – לתכי מורגם בורק? לתיג ישבעס.